Grimm Tales is led by Christ to craft fun, meaningful
experiences.
Christ-followers pursuing excellence
Grimm Tales LLC is an indie game studio that is composed of 5 people, all working remotely across the United States. Grimm Tales was founded in June of 2019 in Arizona by Jonah Grimm. The entire team prides itself on being Christ-followers pursuing excellence in the games industry. We believe that games are a powerful, artistic medium. Knowing this, we have made it our mission to master the art of producing fun, meaningful experiences.
Grimm Tales' first tale is Star in the Hollow. It is a story-focused, 3D platformer adventure game. Our goal with our first project is to deliver a heart-moving experience backed by gorgeous art and memorable music. With Star in the Hollow, we intend to set a trend for all of our future games to be fun to play, atmospheric, endearing, and emotional.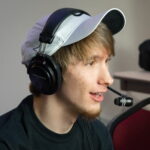 CEO, Business/Admin, Project Director,
Visual development/Composition, Level builder, Coder, Cutscenes
Throughout his entire life, Jonah Grimm has sought to craft masterful, memorable experiences through games. As an alternative to college, he pursued Praxis to sharpen his entrepreneurial toolset while maintaining his steady self-directed game development education. Through Praxis, he secured an apprenticeship as a front-end web developer at BriteBee. Jonah founded Grimm Tales in June of 2019 and switched to Grimm Tales full-time in September of 2020. His passion for game development never ceases, and he spends as much time as possible every week creating, building, and leading.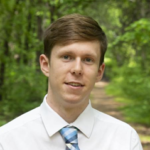 Narrative design, Music producer, Set dresser, Business/Admin, Finance
Isaac has been a storyteller all his life. He began writing stories as soon as he could hold a pencil. Currently, he is employed as the Narrative Designer for Grimm Tales, working on the upcoming children's app, "Brandon the Bee." His short story "Antonio" was published in North Texas Review in 2022. Currently, Isaac has written 3 novels and plans to publish them in the coming years. He primarily writes character-based dramas in the suspense/thriller genre, but he has also written in the fantasy genre. Gothics and classics such as "Dracula" and "Frankenstein" serve as important influences on his own work. He is currently attending the University of North Texas, pursuing a bachelor's degree in English/Creative Writing. He was valedictorian of his high school and a member of the National Honors Society.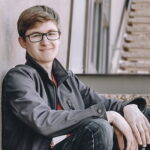 Writer, Sound designer, Music producer,
Level designer, Marketing
Gideon has been playing low brass instruments for over eight years now, and has been writing his own music for over five years. Taking music theory lit his passion for writing music, and he began to work on small projects on his own and with Isaac Hunter. Eventually, he went to the University of North Texas for a degree in Music Education.
Gideon has been doing sound design for three years. He is completely self taught and uses Ableton Live for sound design and music. He is fascinated by the process of music and sound production, and he is learning more and more every day.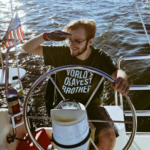 3D Artist/Animator, 2D Puppet Master,
Level Designer, Boss Designer
Zec Williams is our resident expert in all things 3D. Whether it's design, rigging, animation, or implementation, Zec has his hands in it. He spent roughly a decade in his previous career as a Motion Graphics Designer but eventually discovered his passion for Game Design, switching his career path as he developed a robust 3D skillset. 
After joining the team in 2020, Zec dedicated himself to bringing the visuals of Star in the Hollow to life. Now that it's begun to breathe its first true breaths, he uses most of his free time not spent modeling, animating, or level designing coming up with new bling and battles to add to the game.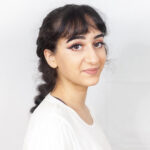 2D Concept Artist, 3D Environment Artist, Illustrator
Tara is a 2D and 3D artist on our team.  Growing up, she primarily pursued 2D art, drawing a variety of characters of her own.  She has also held artist booths at comic conventions with a variety of merchandise, such as prints and keychains. After joining Grimm Tales, she began to make concept art and UI for Star in The Hollow.  Eventually, she developed a love for 3D art, and is now creating 3D environment assets.  Through Grimm Tales, she has had the great opportunity of expanding her craft.  She has become captivated by the world of game development, and is very excited to move forward and grow.